Library of Things-Fun & Games
Introducing the Library of Things
You've borrowed books from the library, why not borrow a folding table, a coin counter, a metal detector, or a karaoke machine?
Our new Library of Things collection features a unique selection of items you can check out from the library. Instead of buying something you might use only once or twice before it just takes up space in your closet, you can borrow it just like you'd borrow a book!
Library of Things items check out for 2 weeks. They can be renewed if no one is waiting and can also be placed on hold. Overdue items will be charged a $1 per day fine.
Save time, money, and closet space with the Library of Things. As we like to say, why buy when you can borrow?
Available Fun & Games
---

Perfect for a rainy day or backyard fun, this large-scale game set will keep everyone entertained!
Checkers on one side, tic-tac-toss on the other. 4'x4′ set can be used indoors or outdoors. Machine washable mat.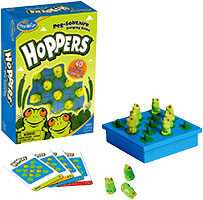 Set the frogs on the pond, then jump frogs until only one is left standing!
Single player game for ages 5 and up. Includes beginner to expert challenges. Great travel game.
---

Explore the details of your world with this beginner microscope!
Fun travel game for ages 3 and up!