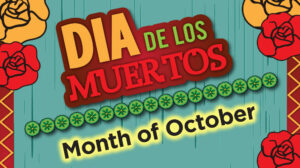 Celebrate Day of the Dead with us all month long this October
Come see our altar at the library and add a picture or special items for your beloved ones to the ofrenda.
Día de Muertos mystery bags will be available for pick-up each of the following Fridays in October at 4 p.m.: October 15 & October 29.
Celebra el Dia de los Muertos todo el mes de Octubre
Visita nuestro altar y añade una foto o recuerdo de tus seres queridos en la ofrenda. Kits sorpresa para llevar estarán disponibles los viernes 15 y 29 de Octubre.
Online Resources to Celebrate The Day of the Dead
Learn about this traditional Mexican holiday that honors our beloved lost ones.
Aprende sobre esta celebración tradicional para honrar a nuestros antepasados.
Book Lists
Check out these great books from our library!
Make
Educational & Fun videos
Music
Learn More!
Día de los Muertos Virtual Classroom
This amazing learning space is a great one-stop resource to learn everything about Day of the Dead. It was put together by The Heritage Team Extraordinaire, a group of educators all over the United States and beyond that worked together on this project to bring you a comprehensive virtual Día de los Muertos learning experience.