Outreach & Home Delivery Services
Request to Present
The Orland Park Public Library receives a high volume of suggestions each year, so please know we
cannot respond to all submissions.
Please fill the "Request to Present" form. If your proposal is accepted, we will contact you via email with the next steps.
Home Delivery Services
If you are an Orland Park Public Library cardholder who could use home delivery services and would like library materials delivered to your home, please contact Outreach Services Department at 708-428-5114 or by email at outreach@orlandparklibrary.org.
Also, You can request home delivery service simply by filling in the form and clicking "Send Form." It's as easy as that!
An Outreach Services staff member will contact you and make arrangements to come visit.
---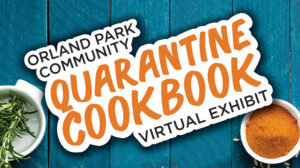 Calling all Orland Park Home Cooks and Chefs!
This is your chance to show off those newly acquired quarantine cooking skills! Submit your best recipes to be a part of Orland Park Public Library's Quarantine Community Cookbook.
This online course is designed to give drivers–especially senior citizens and persons with disabilities–the knowledge and confidence needed to renew or obtain a driver's licence.
The course presenter requests that you open and familiarize yourself with the documents below prior to attending the class:
---
The Pen Pal program will connect Orland Park residents with members of local assisted-living facilities and home bound library patrons. With letters or cards, participants will learn about each other's lives, interests, and activities; and most importantly practice social distancing, not social isolation.
---
Seniors
Outreach Services is committed to providing our senior community with great new adult programming, the best offsite library services including visits to area assisted living facilities and the Orland Township.
---
Offsite Senior Programs
---