24 in 12 Reading Challenge
Adults

Challenge yourself this year with a list of 24 unique prompts to guide your reading: a book with a red cover, a book published the year you graduated from high school, a book by an Illinois author, and more!
Pick up a reading log at the Adult Services Desk or track your reading online through Beanstack.
All Ages
Year-Long Reading Guided Journey!
Buckle up book lovers, OPPL's going to take you on a journey through 12 different genres. Each month you will have a new genre to read. Starting with fiction and ending with fantasy, this guided reading program will have you reading your favorite genres or trying something new. Using Beanstack, you can join this program and keep track of your progress with a new badge each month. Don't feel discouraged about starting late. You can always go back and complete the genres you might have missed. Don't forget to ask a librarian for suggestions if you run into a road block!
---
All Adults, 18+
No genre requirements! Read what you want and log your books with us at your convenience. Audiobooks and eBooks also count towards the goal! Get a sweet treat when you sign up! Everyone who hits 100 books will receive a special surprise! Get your log at the Adult Services Desk on the second floor. You can also join this program and keep track of your progress using Beanstack. All books read after January 1, 2021 count towards the goal!
Grades 9-12
Read for a Lifetime is a statewide reading program that targets high school students. This initiative promotes the enjoyment of reading by encouraging students to read both classic and contemporary literature, and rewards them for their efforts. Read 4 books from the list of 25 to receive a certificate of achievement signed by Secretary of State and State Librarian Jesse White. Read all 25 books or at least 4 books from the list all 4 years of high and school get special recognition.
Registration is now open for the "2022-2023 Read for a Lifetime" program through Beanstack.
---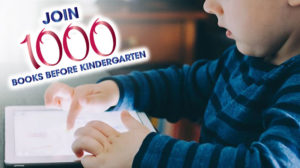 Birth-Grade K.
1000 Books Before Kindergarten is a program that gives the exciting challenge to read 1000 books with your child before he or she enters kindergarten.
Log your books using Beanstack. Feel free to repeat titles if you read them more than once. You will then visit the Preschool Desk to receive your halfway prize once you reach 500 books and once you finish your 1,000. Happy reading!
Grades 4-8
What better way to prepare for high school than reading books? Keep track of the books you've read using Beanstack. Visit the library for a halfway prize when you've read 50 books. Once you reach your 100 book goal, stop in for a free book and other goodies to help you get ready for high school.
---