Social Story – Visiting the Library
1. Today I am going to the Orland Park Public Library.
2. Before I go inside, I like to look at the things in the window display. Today it is a collection of baskets.
3. I love coming to the library! I want to pick out a book, but before we get my book, my grown-up needs to get theirs. We need to go upstairs.
4. Sometimes I take the elevator upstairs.
5. Today, I take the stairs.
6. Upstairs is where adults and teenagers get their books, movies, and use the computer.
7. My grown up needs help finding their book. The librarian, Ms. Katie, helps us find what we need.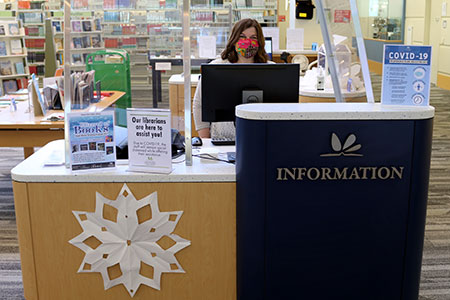 8. After my grown up finds their book, they sign up for a computer class with Mr. Dan.
9. My older brother needs a book for school. We ask the Teen Librarian, Ms. Erin, for help.
10. The librarian tells us the book we want is in the Teen Loft.
11. Finally, it's time for me to pick out my book! We go downstairs to the Children's Library. I love the Children's Library!
12. Ms. Vanessa, says hello. If I have a question or if I get lost, the librarian will help me.
13. The book I want is on a shelf in a place called the
In-Between. I like to sit on the big seats here and read.
14. Sometimes it's gets too noisy and busy around me and I need a break. I use the Sensory Room to help me calm down.
15. Sometimes I come to the library for programs. We have fun in the Storytime Room.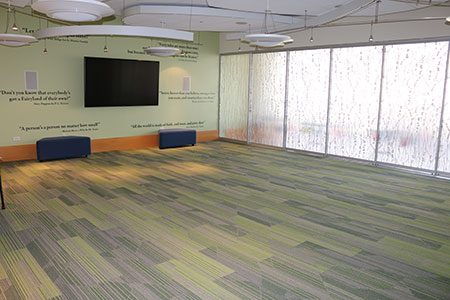 16. It is a nice day outside. I ask my grown up if we can visit The Backyard. They say yes.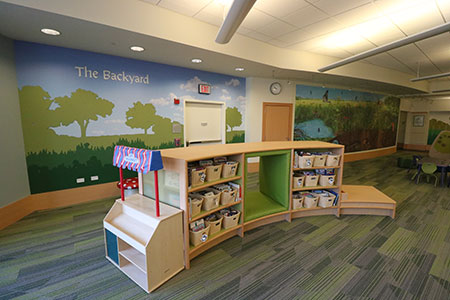 17. I like to look at the pond and play with the water table.
18. It's time to go home. We need to check out our books. I ask the librarian, Ms. Darnetta, where to go.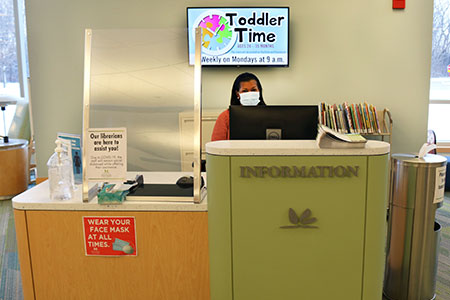 19. The librarian shows us the self-checkout machine. We check out our books with a library card.
20. When we are leaving the library, my grown up surprises me! I am getting my own library card today! We fill out forms at the check-out desk in the lobby. I love the Orland Park Public Library!