Winter Wonderfest
Saturday, Dec. 10
11 a.m. – 3 p.m.
Celebrate the beginning of Winter Reading with a special all-ages event.
Wend your way through the library to enjoy wintry demos, crafts, warm drinks, live music, a photo booth, and some special animal guests. The event will cap off with a Prismatic Magic Interactive LASER Show at 2 p.m.!
For a full schedule of events, please see our online calendar or visit one of our service desks!
---
Blizzard of Books: Winter Reading Challenge
Adults
Thursday, Dec. 1 – Tuesday, Feb. 28
Keep warm this winter by cozying up with some books!
Join our Winter Adult Reading Program that runs from Dec. 1 – Feb. 28. Every book you read will give you one entry into our gift card and grand prize raffles.
Sign up at the Adult Services Desk or via Beanstack.
---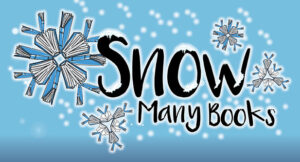 Snow Many Books!Winter Reading Program
Birth-High School
Thursday, Dec. 1 – Tuesday, Feb. 28
This program requires not only stellar reading skills, but also teamwork! Sign up at the Teen or Junior Desk or call us at (708) 428-5127 to get assigned your winter-themed team. Read your picks for points, but earn extra points by reading books from the staff recommendation shelves in each department. You can submit points by telling the Youth Librarians either in person or by phone. The winning team will earn drawing slips to win a prize as well as bragging rights for the rest of the year!
For the first time, we're extending our program! Sign up begins on Thursday, Dec. 1. Snow Many Books ends on Tuesday, Feb. 28, 2023.