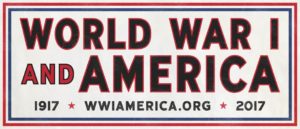 To mark the 100th anniversary of the nation's entry into the war in 1917, World War I and America brings members of the veteran community together with the general public in libraries and museums around the country. Participants explore the transformative impact of the First World War by reading, discussing, and sharing insights into the writings of Americans who experienced it firsthand.
World War I and America is a major initiative involving public programs in all fifty states, a traveling exhibition, a multimedia website, and the publication of an anthology of writings by Americans who experienced World War I. The initiative is made possible in part by a grant from The National Endowment for the Humanities.
---

Take a look at historical events of 1917
The library hosted World War I and America exhibit in March of 2017.
See what events happened in March, 1917
Taken from our Chicago Daily Tribune ProQuest Historical Newspapers database.
Orland Park Public Library cardholders can access the ProQuest Historical Newspaper Database to look at actual, full issue newspapers from World War One and even earlier!